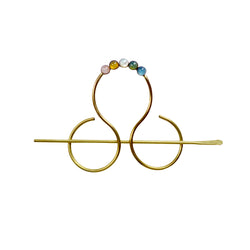 Dreamers Supply Co.
Lyra Hair Pin | Cassatt
Inspired by the rainbow of colors Mary Cassatt used to paint private moments of women and the quiet but colorful lives they led.

In the days after their first child was born, Alan took hammer to metal and fashioned this delicate hairpin for Kaitlin who'd wanted to feel like a woman—une femme—again. Crafted of brass sturdy enough to hold its shape yet flexible enough to sustain a day-long hold on hair, the Lyra has since become one of Dreamers Supply Co's most popular designs.

Specs
Made of Brass, finished with a five bezel setting of rose quartz, mother of pearl, and chalcedony in blue, green and yellow.

3 x 3.5" Base, 5" Straight Pin
Compatible with most hair textures and lengths. Form the hair into either a bun, half-bun, or half-up style and lay the swirled piece flat against it. Then, thread the straight piece through one loop and beneath the section of hair, and up through the second loop on the other side. See a video tutorial here.