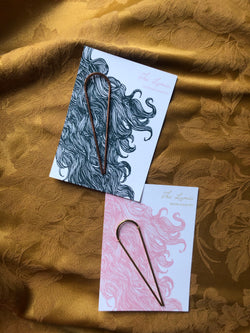 Dreamers Supply Co.
Lamia Hair Pin
Introducing our 'Lamia' French Hair Pin. Made with durable metal, designed to keep long hair of all types securely in place throughout the day. Perfect for maintaining a polished look, this hairpin offers both functionality and style.

With its U-shaped design, this hairpin provides a reliable hold, ensuring that your hair stays put even during your busiest moments. When you're on the go or engaged in physical activities, our hairpin won't let you down, eliminating the need for constant adjustments. Use as a single hair pin or in a pair for that Extra Hold.

The French-inspired design adds a touch of elegance to any hairstyle. Whether you prefer a classic bun or an intricate chignon, our U-shaped Lamia hairpin effortlessly complements your look. It can also serve as a fashionable accessory, adding flair to your hair.

Suitable for all hair types, French Hair Pin is the perfect solution for those struggling to manage their long locks. Whether you have straight, curly, or wavy hair, our hairpin provides a secure hold without causing damage or tugging.

Experience the convenience and style of our Hair Pin by incorporating it into your hair routine today. Bid farewell to unruly hair and embrace a flawless, lasting look. Invest in our hairpin now and enjoy the confidence and ease it brings to your daily hairstyle.