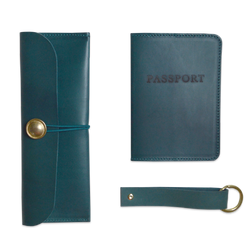 Dreamers Supply Co.
Prussian Blue Leather Travel Set
Travel in style with our Prussian Blue Italian leather travel set. Includes an artist pouch, a passport cover, and a loop keychain.

ARTIST POUCH | Perfect for storing art supplies or your sunglasses. The pouch closure is a domed brass button with an elastic loop for quick seamless access. The Dreamers logo is branded on the back. Measurements | 8" x 3"

PASSPORT | For the adventurer in your life. Classic leather passport branded with the dreamers logo on the back. Measurements | 5.5" x 4"

KEYCHAIN | Handmade natural leather keychains finished off with a brass jump ring.
*For general maintenance and care, we recommend R. M. Williams Saddle and Leather Dressing.